By
Matthias

Date
2013-09-13 20:21

While we're at it, why not try to get some more juicyness into the game?
Watch this for an enlightening entry to that topic.
http://www.youtube.com/watch?v=Fy0aCDmgnxg
Also, I stole their "juicyness" term. It's mine now. :3
I think we could make a lot of things look more engaging by spending more time on how they visualize. Lets collect ideas, screenshots, gif, mockups, references here without worrying if our engine can or cannot do it. Don't be shy to post an over-the-top idea. I might be inspiring just to see how it could play out.


By
Nachtfalter
Date
2013-09-14 11:29


Date
2013-09-14 12:46


By
Zapper

Date
2013-10-10 16:28

As some have already noticed, I accidentally wrote
a new particle system
! Have fun!

By
Nachtfalter
Date
2013-10-10 16:31

Neat!

By
Clonkonaut

Date
2013-10-10 18:42

Pretty cool!


By
Matthias

Date
2013-10-10 17:31

Duplicated from the Blog. The left one is acutally the one I was working on with Zappers new particle system. The Right one was just something unrefined to try out how certain kinds of particles mix.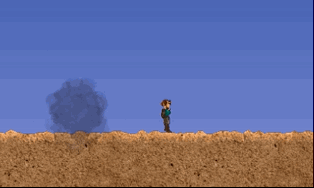 Powered by mwForum 2.29.7 © 1999-2015 Markus Wichitill