Poll
keep it as it is, or set a new standard (Closed)
| | | | |
| --- | --- | --- | --- |
| new standardized textureset (orange and lightblue) | 3 | 100% | |
| someone else should do it (keep it until then) | 0 | 0% | |
| The current textures are fine | 0 | 0% | |


By
pluto

Date
2016-02-07 21:12
Edited
2016-02-07 21:39
Hi there,
I was working on models for Clonkonauts cable car. By that. I also started using a new, more colorful and friendly palette. as the mud brown colors dominating items and structures were  very often critizised. (see compilation picture taken by Nachtfalter or Matthi (sorry, dunno anymore, but there is a thread here somewhere.)
Presenting my cable car exported models, there was a dispute, that the new color palette does not fit to the old stuff, which is true. That is why I quicky recolored the old textures to make them fitting my proposed new style. This is a quick and efficient interim solution until someone decides to replace the old structures (especially the ones which still have some sort of dummy model)
There was already a dicussion about the new color palette, brightness, cleanness, orangeness, without any clear consens. Some liked the orange, some did not. Generally it was said that it might be a bit too bright, however, as soon as I reduce the brightness, it quickly starts to become more brownish again. However the *.material file allows to easily change the brightness without even touching the textures itself.
To make it short and simple, this discussion shall aim on the
question: is the old better than the new style/colorpalette?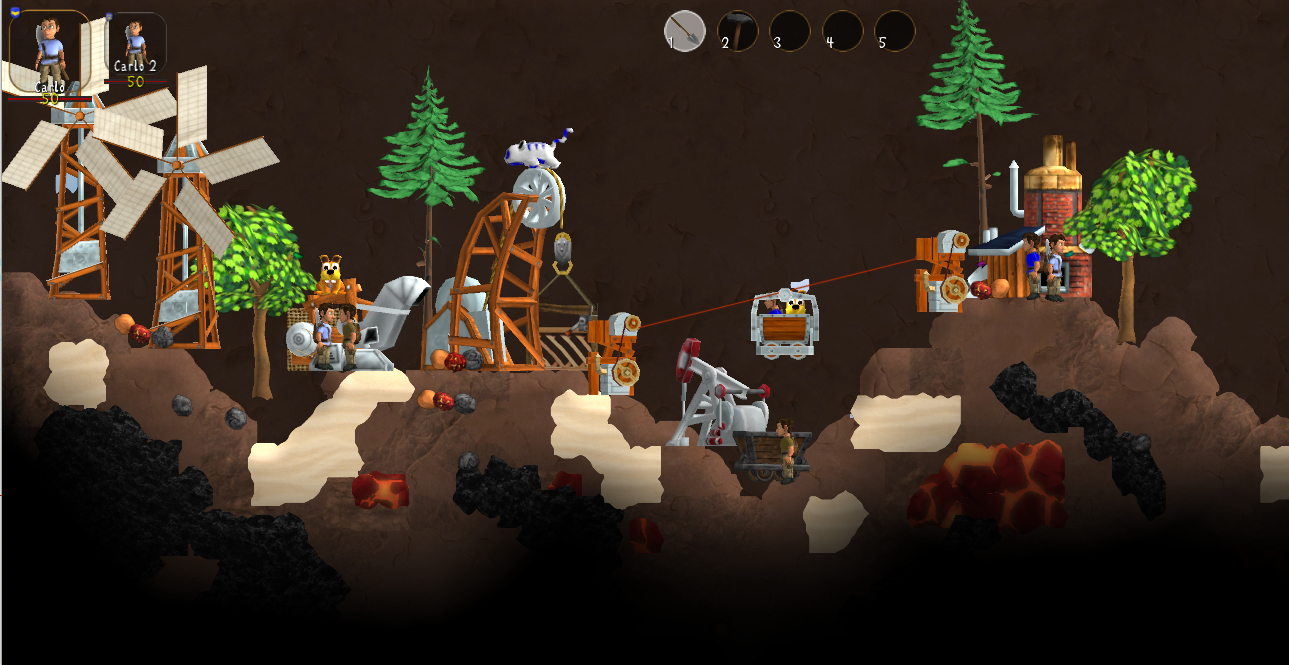 By
Sven2

Date
2016-02-09 03:44
Edited
2016-02-09 03:51

So we have the options:
1. pluto's bright orange-y brown. Buildings stand out most. They are most recognizable, but at the cost of competing with recognition of clonks and other animals standing (in front of them).
2. Nachtfalter's darkened version. Still colored but buildings stand out a bit less. Lies somewhere between 1 and 3.
3. Marky's desaturated version. Buildings have least contrast to earth, but also integrate most. Does not disturb the scene, but at the cost of being less recognizable individually.
4. Current colors. Would be least work to keep.
Did I miss anything? Do people want to discuss more?
I think all versions have some valid arguments and it comes down to personal taste. Maybe bright colors emphasize the chaos that's definitely part of clonk rounds, while the darker/desaturated ones try to achieve some harmony for the whole scene.
I suggest to simply make a poll with these options. Allow selection of multiple options, so we don't need to discuss after the poll which votes would need to be added. Whoever wants to modify colors has community approval to change the color scheme to be approximately like the proposed version.


By
pluto

Date
2016-02-09 22:14
Edited
2016-02-09 23:47
I started a poll about either accepting my approach for now, or keeping the old stuff. I am not motivated to start a second approach, as these discussions about very subjective things are not appealing for me.  (I might change the saturation slightly towards Matthis proposed elevator texture (whoever may know his elevator model&texture) )
Edit1: Oh, I obviously did not read the complete post. New Poll
Edit2: Oh, a second poll per thread is not possible. New thread. Sorry!
http://forum.openclonk.org/topic_show.pl?tid=3264


By
Pyrit
Date
2016-02-09 22:36

Maybe on Clonkspot it would be better, because the CR guys might want to share their mustard? They aren't really active here, are they? Question is are they even active in the Clonkspot OC boards...? Maybe they don't even want to share their opinion on OC anymore, because they consider the game a fail overall.
Idk, I'd put the poll on Clonkspot anyways.

By
pluto

Date
2016-02-09 22:50
Edited
2016-02-09 22:54
Cool, nice thinking. However I would like to avoid any more "mustard". Just go for the poll ;)

unfortunately this makes double voting possible...

By
Zapper

Date
2016-02-10 00:33

> Maybe they don't even want to share their opinion on OC anymore, because they consider the game a fail overall.
That's nice that they don't post here then. Because I really wouldn't want the opinion about a detail of someone who considers the whole game a fail anyway.
Powered by mwForum 2.29.7 © 1999-2015 Markus Wichitill